The Goodwin Agency is, first and foremost, a team. At its head are three partners: Camille, Marie-Claude and Nathalie Goodwin. They represent more than 150 artists working on every continent of the globe in creative areas that vary from acting, staging, directing, scriptwriting, book writing, set, costume and lighting design, choreography and music composition.
Over the last 30 years, the Goodwin Agency has become a benchmark for success in Quebec's cultural milieu. To this day, it remains the only one to represent so many artists working in so many different disciplines.
Furthermore, the team has a great depth of experience in the world and workings of productions, as well as a profound knowledge of client representation and negotiation in all areas of artistic activity.
Taking its cue from the top US agencies, the Goodwin Agency also initiates projects in the fields of TV, film, theatre, literature, musicals and spectacles in order to share the brilliance of Quebec's massive pool of talent with everybody both here and overseas.
Beginnings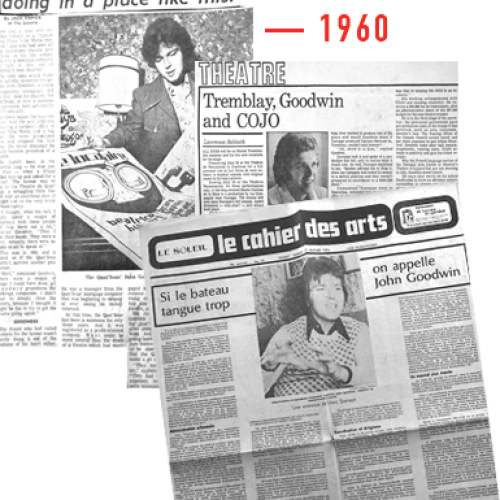 In the 1960s, John Goodwin was a management consultant whose skills, flexibility and expertise covered a lot of ground from administration to crisis management and executive headhunting, to name but three.
It was not until he first came to the help of companies working in the cultural sector, such as the Montreal Symphony Orchestra and, more particularly, in 1969, in the now-legendary Théâtre de Quat'Sous, that John and his passion for the performing arts took a definitive step into his future.
A promising young writer working with the theatre group caught his attention. John offered to become his agent. Over the coming years, he would guide this client – his very first – to the heights of a decorated and award-winning literary giant whose books and plays have been translated into 40 languages. Michel Tremblay remains, to this day, a client of the agency. 
During the next two decades, John founded John C. Goodwin & Associés and this is where another key player stepped into the picture. His wife, Camille Goodwin, provided a crucial second wing as she skilfully covered a wide range of key, hands-on functions in the fast-growing artistic and theatrical agency. 
This was a time when many artists could not keep up with the business' rapidly changing realities. Its new complexities made them vulnerable to signing contracts that were less than ideal.
John and Camille took on the business of negotiating contracts that protected and furthered their clients' interests thereby setting the tone for a fairer future for film, TV and theatrical artists. The business was growing.
Sadly, John Goodwin died in 1988 at a time when his twin daughters, Nathalie and Marie-Claude, were two years away from graduating from law school. The young women urged their mother to keep going for the next two years, and promised to come aboard and help as soon as they could.
 
A New Generation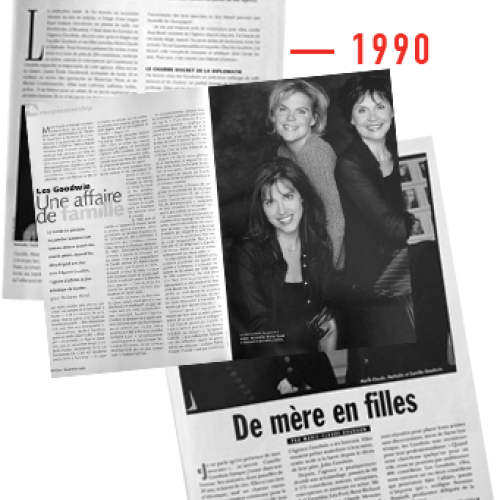 When the Goodwin sisters graduated in 1990, their timing could not have been better. The fact that Nathalie and Marie-Claude's parents had already put the company on a steady footing was only part of the picture. 
The entertainment industry was booming and its contractual relationships and conditions had been growing increasingly complex for some decades. The consultative roles and importance of lawyers were evolving dramatically as they started moving from the wings to centre stage management. 
The Goodwin Agency now had not one but two legal talents, both steeped in the family business since childhood. Together with their mother Camille, Nathalie and Marie-Claude Goodwin have ridden the waves of change, initiated a focus on foreign markets, widened their client base and steered the agency to the top of their field. They now set the pace for everyone else as they promote and manage the careers of Canadian talents operating, literally, all over the globe.